It's a new world out there, but you already know it. This means for job seekers that the competitive battle for any job will be fierce. Now, imagine yourself running in the finals of Olympic hurdles track events. You made the last cut, the gun went out, and you know you can beat it. You see the finish line, oops, you kick down the last hurdle. This is what the interview is about; The last step before accepting an offer.
As a three-decade-old recruitment manager, I saw the big, the good, the bad and the ugly. Most of the time, the candidate does not know that they just got into a pile of poop by overexposing, unprepared, did not listen to a question or asked poor questions.
As a job search consultant and coach, I'm so worried when I hear, "Oh, I got it," "I'm extrovert, so I like talking to people," "It's going to be a piece of cake," or "Yeah, I interviewed a lot during my career." You know where it's going, right? Yes, these are the people who encounter too much arrogance, blow up basic answers, are unaware of themselves, or just do not beat the competitors who performed better in the interview.
You got this keyword: Done? Yes, interviews are a show. Whether you are introverted or extroverted, a developer or salesman, senior or beginner, each of you should spend hours preparing for interviews well in advance. Sure, there are things to do the night before, like making sure your clothes are tight or that you have printed out the questions you are going to ask them. However, I am talking about preparing for an interview that you need to do before you start submitting a resume.
Here's how to smash interview questions: what to say and what not to say.
Interview question: tell me about yourself.
What not to say: "I was born in …" and 10 minutes later, you complete a resume review.
Why this is a weak answer: It's boring and overwhelming.
What to say: Here's the formula:
Start with a short icebreaker, then one sentence about your education.
Get into two sentences about your professional experience (not a resume review!).
Finish with two sentences about why you are here today – why this is a great opportunity.
So stop talking. This is an opportunity to promote the most relevant aspects of your background
Interview question: ? What are your strengths?
What not to say: "I study well, adapt, work well with people and have a strong work ethic."
Why this is a weak answer: You start with the soft skills and not with the hard skills; They expect you to already have some. It's like saying "I'm breathing. "
what to say: Highlight the skill and then describe how strong you are at it! for example:
"There are three strengths I want to share with you today: "
"One, I'm analytical. I have excellent attention to detail and am proud of my accuracy and analytical skills. "
<כלול עוד שניים>
Interview question: What are your weaknesses?
What not to say: "I do not have." "My strengths, when taken too far, are my weaknesses." "I'm upset about talking to more than 1,000 people," he said. And yet you are interviewed for a key role that is not a speaker.
Why this is a weak answer: It shows a lack of self-awareness and humility. We all have areas for improvement and need to learn to fix them.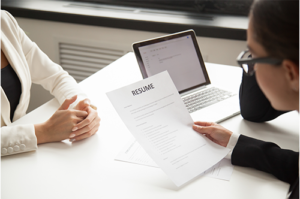 what to say: Turn negative into positive by saying:
"I am working on the following two areas of improvement:"
One, I used to check every item in a spreadsheet. Now, I'm trying to limit my reviews.
Second, being organized was not my strong suit, but I implemented a time management system that really helped my organization's capabilities.
Interview question: Do you have any questions for me?
What not to say: "No I'm fine." "How much does the work pay?" "Is it possible to work from home?" "How many vacation days will I get?" "What is the company's five-year plan?"
Why this is a weak answer: If you have no questions, you are not interested in or have not done any research, or you are not ready for this interview. Do not ask financial questions / benefits. To avoid unconscious biases or judgments, do not disclose personal or special needs until you have an offer in hand.
what to say: "Yes, I made a questions. "Take out your paper to show that you are taking notes. Any question should be relevant to the job, emphasize strength, or show that you have done research. Sample questions include:
I am very self-motivated. How will you measure my success in this role after a full year?
What are the 3 leading skills or experiences you are looking for that may not be mentioned in the job description?
When the interviewer hints at the last question: "I want to share that I am enthusiastic about this role and hope I have your support to proceed to the next stage of the interview process." (This is not a question, but it is very close to your meeting.)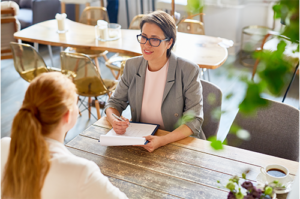 An entire Master Class® job search module is dedicated to controlling your interviews. The four questions above are just an example of many that you will write and come back to. Next, you will have 24 x 7 for unlimited video role-playing game practice. There are more than 7,000 interview questions to choose from, searchable by job and industry.
See more relevant insights here: