On Thursday, March 18, we hosted the finals of our online seminar series HE Recruitment 2021, the open forum for HR managers.
Watch the webinar now and hear from the following participants:
Karen Morris-Lance
Director of Human Resources and Digital Transformation Systems, University of Warwick
Prior to joining Warwick as Director of Human Resources and Digital Transformation Systems, Karen founded her own consulting firm that she ran on a global basis for over 15 years. Waponi HR provides people and technology solutions for matching businesses, people and digital strategies.
Karen has led HR, IT and L&D teams to deliver significant change within a number of high-profile organizations, across a wide range of sectors. It brings experience in introducing a number of digital initiatives to increase efficiency.
Her magic has always been in the arena of change and in understanding what the future of work will look like, and most importantly, feeling from people's perspectives.
Richard Billingham
Senior Director of Human Resources and Organizational Development, Aston University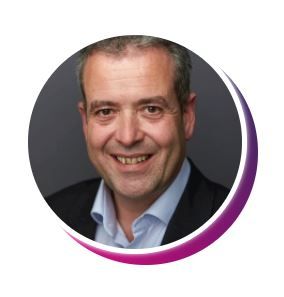 Richard Billingham discusses why a combination of home and office work is the future of Aston University. He will share details of what they plan at Aston University, explore what they will take from this time and implement in the future, and discuss the people, space and technology needed to create a successful hybrid work environment.
Richard Billingham is the Senior Director of Human Resources and Organizational Development at Aston University. He has extensive experience working with leaders and organizations, in both the public and private sectors, both in the UK and around the world, to bring about change.
He has previously held a number of management-level positions focusing on leading a complex workforce and changing culture. He joined Aston from Bristol City Council where he was human resources and change manager.
Richard is an Advisor to the Board of The Trusted Executive Foundation, Governor of Aston University School of Engineering and a Board of Trustees. He is recognized by friends and colleagues as an outgoing and outgoing fan, an absolute enthusiast (and a cricket fan)! He is passionate about working with organizations and individuals, to help them become the best they can be.
Neil Henderson FCIPD
Director of Human Resources and Organizational Development, University of West London
I have been in this position since January 2019, following a previous appointment here from March 2017 to January 2018 as Head of Temporary Human Resources. I have over 18 years of experience in human resources in higher education, I have held significant assistant / deputy positions at the University of London and the University of the Arts in London from 2002 to 2012.
In the fall of 2012 I took the bold step of giving up a permanent position and set up as an intermediary / consultant and was lucky enough to work steadily in a variety of intermediate positions and consulting from 2012 to January 2019 when I re-entered the world of permanent work! During this time I worked at Birbeck College, Kingston University, the Institute for Higher Education Statistics, UWL and Queen Mary University in London. During these assignments, my main focus has been on organizational change and design, as well as great involvement in employee relations and caring for "people". These areas are my main professional passions. I have an aspiration to ensure that we at HR "bring people back to managing people."
Before entering higher education, I worked at HR for the Acne Borough Council, which provided a fantastic learning curve for my evolving human resources career. My working life began in the service of the Metropolitan Police, where I initially worked in General Administration but then specialized in Personnel and went on to be one of the Manpower Managers who are not the Chief Superintendent at an Operational Police Station.
I am currently chairing the HR Group of the University of London (M25) and I also sit on the UHR National Board.
Johnny Gifford
Senior Organizational Behavior Consultant, CIPD
Johnny's work focuses on creating strong and relevant research insight and strengthening the links between research and practice. He has been conducting applied research in the field of employment and people management for over 15 years, with previous roles at the Westminster Business School, the Institute for Employment Studies and the Rupee Park Institute.
His areas of interest include quality of work or 'good work', conflicts in the workplace and scientific behavioral insights regarding the core areas of human resources like recruitment, reward, performance management and ethical behavior. He chairs the CIPD's annual applied research conference, leads the CIPD's work on evidence-based practice, and is a veteran public speaker.